A 3-D digital terrain model of the core study area (GIF 156 Kb)

Zackenberg valley with research Zone 1 and subdivisions (JPG 3,4 Mb)

Zackenberg valley with drainage basin (GIF)

Zackenberg valley with place names (PDF)

Map of Zones
Zackenberg overview with coordinates
Zackenberg web GIS see stepwise guide on how to use it and get coordinates: step 1 step 2 step 3

The core study area is partitioned as follows:
Research Zone 1a+1b is the core area for monitoring and research projects. Research here can only be conducted with prior approval by the GEM PI board.
Ad hoc access may be granted by the scientific leader. Please note whether you are in 1a or extend your work also to 1b. Make daily note on message board about this for the station records.
Zone 1c is a waterfowl protection area. Several hundreds of geese moult in the lowlands adjacent to the coastline. During the 50 days moulting season the geese are extremely sensitive to disturbance. In order not to scare off the geese permanently and thereby altering the grazing regime of the coastal meadows, access to Zone 1c is prohibited between 20 June and 10 August. Proposed research in Zone 1c requiring access during the critical period must be approved before the summer season.
Please see the Access folder - will also be available on the station

Map download
GIS data for the Zackenberg area can be downloaded here.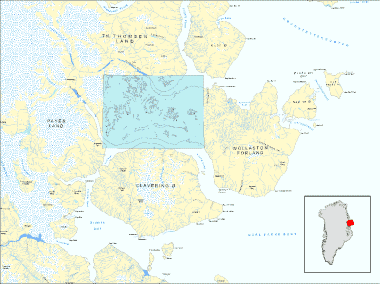 To download an overview map of the Zackenberg area, like the one above (without blue area), click here:
Zackenberg Overview (png, geo referenced, zipped)
The geodatabase, with vector data covering the Zackenberg drainage basin (blue area on the map above), is now available. Click on the link: ArcGIS file based geodatabase
Geomorphologic Geomorphological map of the Zackenberg Valley can be downloaded here
Please cite the map data according to the instructions.
Hut waypoints
The Zackenberg Research Station encourages projects outside the main research area to bring GPS coordinates for potential shelters around the area. The .gpx file can be downloaded and read into you own GPS. The file contains the coordinates for old trapping stations and huts, that may be useful in case you need shelter from bad weather. Notice, that the file also contains a few other GPS coordinates for peaks and passes in the area. All old trapping stations and huts are named with the prefix 'Hut' followed by their original name (typically in Danish).