Scientist of the Month - March
Kerstin Rasmussen is the GEM scientist of the month, and is one of the persons behind a new cartoon teaching kids in Greenland about the GEM programme!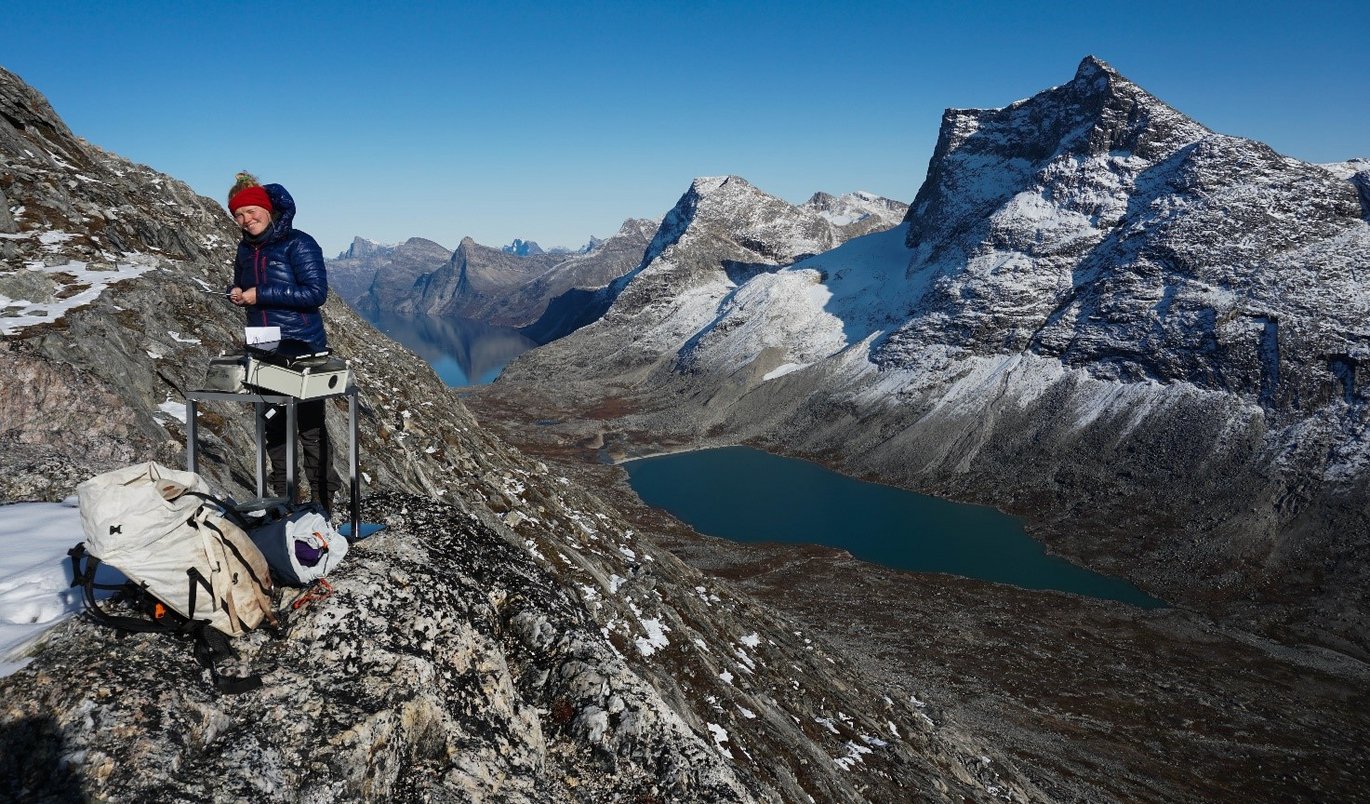 The fascination of the Arctic emerged during Kerstin's childhood, when she went on vacation to Lapland and South Greenland. Then after having participated in two field courses at Arktisk Station she was sure she wanted more of Greenland. During her Geography studies at University of Copenhagen, Kerstin started using GEM data for her projects, and in 2017 Kerstin moved to Nuuk and started to work for Asiaq (Greenland Survey) and for the GEM GeoBasis and ClimateBasis programmes.
Primarily working in Kobbefjord 2-3 times a week for GeoBasis, Kerstin maintains the automatic stations, takes manual measurements and soil water samples. In late winter, it is time for the snow survey in Kobbefjord, when a whole team digs out snow profiles and monitors the snow properties and distribution in the valley through drone photography. This year, the planning of the field season will be different due to the COVID-19 pandemic and connected travel restrictions, already resulting in the postponing of this year's snow survey. If this year's main field season allows, Kerstin and colleagues plan to replace outdated automatic cameras from 2007 with two brand new ones. These cameras are used to monitor the greenness and the snow distribution of the valley as well as the ice coverage of the surrounding lakes and fjord. Located at 500 m above the main valley in Kobbefjord, the view promises to be amazing.
"Just being in the field gives some memorable experiences as seeing the valley from above after hiking to one of our six automatic cameras. Adding yet another season of data to our long-term time series always feels rewarding after months of hard field work! "
Despite the infamous and ever-changing challenges of logistics in Arctic fieldwork, Kerstin highlights her personal motivation: "I feel privileged that we have this seasonal change in our work. In summer most of my time is spent working in Kobbefjord. In late autumn when my whole body aches after a tough field season, and it starts getting really cold and kind of monotonous being in the field, I change scene to my desk in Nuuk, where I then have time to work on the data, we have collected during the summer. In early summer when my body then aches after sitting at my desk for so long, our next field season begins, and it all starts over again! Being based in Nuuk I like that I don't only see the summer-version of Greenland. Watching the seasons change adds another perspective to the data, we are collecting, and experiencing the tough weather conditions of the winter, makes it so much more nerve-wracking to visit the field site again for the first time in spring!"
Illustration: Noémie Ross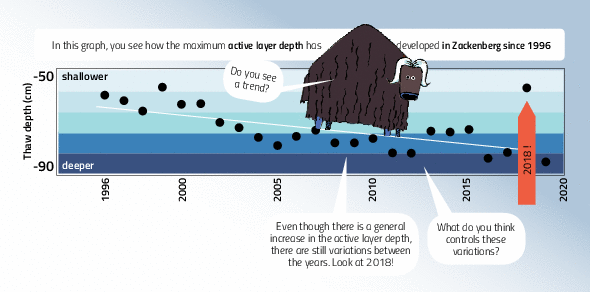 Kerstin is also engaging creatively in public outreach. The past year she has been working on a Greenlandic/Danish version of the Frozen-Ground Cartoons (https://frozengroundcartoon.com/) by translating the original version to Greenlandic and Danish. Together with colleagues and the artist Noémie Ross, they also extended it with four new pages focusing on climate and permafrost in Greenland based on the work and data of GEM. This amazing work will soon be visible online and in the schools in Greenland, as well as in the GEM report Cards 2019. Kerstin hopes that the school-children will read it and develop more interest in natural sciences, climate change and the environment they are living in.